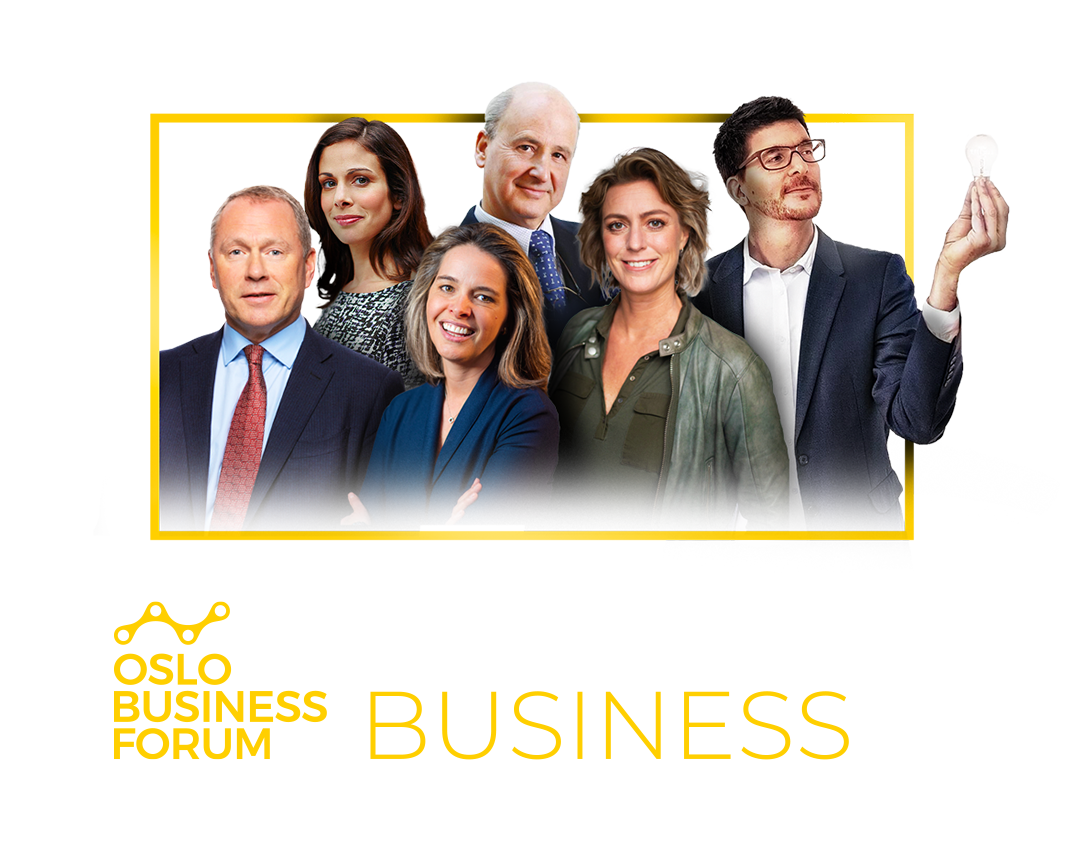 USE CODE "

DELOITTE2021

" TO GET 200 NOK DISCOUNT


more than a conference
"OBF is more than a conference. Quality content, implementable ideas and networking with peers helps me grow as a leader. Recommended!"
Sverre Tyrhaug
Managing Partner, Thommessen
It's time to
rethink

your business

How can you successfully lead your organization through this disruption and boost organizational success?
Take part of the happening of the year where you will gain insight and critical knowledge, valuable relationships to accelerate business growth, and actionable ideas and tools. Learn and be inspired by business experts and pioneers speaking at Oslo Business Forum.
Experience a day filled with world-class presentations, networking and inspiration.


5,000+
Participants online
95.3%
Would recommend OBF to a friend or colleague
Speakers Fireside Stage
Powered by Santander
Anniken Fjelberg
Moderator - Fireside Stage
Kristin Skogen Lund
Schibsted ASA
Jørn Seglem
SAS Institute
Christina Kjær Seime
Miles
Ingrid Somdal-Åmodt Vinje
Orbit
Ida Marie Christensen
Danske Bank
Tor Kramvik Sivertsen
Deloitte
Svein Skovly
Fremtind Insurance
Staale Risa
24SevenOffice
Grethe Bergly
Multiconsult ASA
Marianne Hagen
The Assessment Company
Christopher Parmo
Verdane
VIP Session
08:30 - 09:30
Leading Growth: How Leaders Can Supercharge Their Innovation Culture
Main Stage
10:00 - 10:10
Opening Show
10:10 - 10:40
The New Competitiveness Landscape After The Pandemic
10:40 - 11:30
The Three Pillars of Business Model Innovation
11:30 - 12:40
Networking Lunch & Fireside Stage
12:40 - 13:10
Working Cultures after Corona
13:10 - 14:00
No Rules Rules: Netflix and the Culture of Reinvention
14:00 - 14:10
Launch of Oslo Business Forum 2022
14:10 - 15:00
Networking, Servings & Fireside Stage
15:00 - 16:00
Rethinking Trust
16:00 - 16:30
Rethinking People & Values in a Changing World
Afterwork & VIP Dinner
16:30 - 18:00
Aftertalks, Music Entertainment & Drinks
18:00 - 22:00
VIP Dinner at Main Stage, Norges Varemesse
Fireside Stage - powered by Santander
09:35 - 09:50
Rethinking Employer Branding | Fireside Stage
Steve Franklin & Espen Steinsrud
11:35 - 11:50
Rethinking Leadership
Kristin Skogen Lund & Leif Arne Jensen
11:50 - 12:00
Rethinking Entrepreneurship
Christopher Parmo & Ida Marie Christensen
12:00 - 12:15
Rethinking Strategy
Thomas Christian Magnus & Marianne Hagen
12:15 - 12:30
Rethinking Digital Transformation
Staale Risa & Tor Kramvik Sivertsen
14:15 - 14:30
Rethinking Work
Bjørnar Løwe Skas & Emily Northway
14:30 - 14:40
Rethinking Organizations
Grethe Bergly & Christina Kjær Seime
14:40 - 14:55
Rethinking Innovation
Svein Skovly & Sandra Hovland
16:35 - 16:55
Aftertalk with SAS Institute & Pernille Hertel
Alex Osterwalder & Arild Spandow
16:35 - 16:55
Aftertalk with EY & Magnus Kuchler
Jitske Kramer
How the conference will help you as a business leader:
Get the most critical knowledge and actionable tools
New era, new skills to be a successful business leader. We have carefully picked the most educational lectures, by some of the world's foremost business experts. At Oslo Business Forum 2021, we will make sure to give you implementable ideas and actionable tools, to help you become a successful business leader in the new era.

Dream it. Wish it. Do it.
Build the most valuable relationships to accelerate your growth
There is no better way to meet your next business partner, than at Oslo Business Forum. More than 50% of the attendees are categorized as C-level. You can build valuable relationships with these at our dedicated networking zones or at the afterwork/dinner.

Your network is your net worth.
An inspirational learning experience
Throughout the day, you can focus on yourself and the inspiration, ideas, and networks – we will take care of the rest and make sure it will be an experience to remember. For many business leaders, Oslo Business Forum is the place to be in order to foresee business trends and opportunities.

Inspiring ideas for extraordinary leaders.
Ticket prices
All prices are NOK - Ex VAT and ticket fee.
---
Access to all stages and presentations

Access to recordings for 90 days

Food & Drinks

VIP Dinner

VIP Session with Alex Osterwalder

VIP Seating

VIP Networking Area

Signed book Alex Osterwalder
---
Access to all stages and presentations

Access to recordings for 90 days

Food & Drinks
Online Ticket
personal access only
NOK 1,795,-

Original price: 2,995,-
Register now!
---
Digital access to all presentations

Access to recordings for 90 days

For personal use ONLY
Watch as a company
Livestream to All Employees
NOK

39,000

ex VAT and ticket fee
For companies that want to stream the content to all employees.
Your own password-protected website on obforum.com for your organization.
On-demand access to content for 24 hours
Questions? Contact Marius@obforum.no for more information
Setting the standard
"In a time when many are moving towards online conferences, Oslo Business Forum has already set the standard. The delivery was professional and fun!"
Anette Wærsten
CEO, Waken ASHead of ODA Inspiration Day