Diversity in the workplace makes us more competitive and more innovative, but most importantly, it contributes to a better and more fair society. I'm both proud and humble to state that Accenture, the global management and consulting firm I work for, dares to set a goal for gender equality globally by 2025.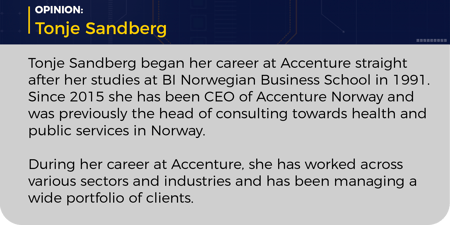 In the mid-80s, a Norwegian book was published with the ironic title: Have you become a boss, my girl? Sometime later, I received it as a gift from my boyfriend. The book reveals the many prejudices and problems that top female executives meet in their work life. Although we are living in a much more unbiased world today, we still have a big job to do to get an even more diverse and equal workplace.

After completing a master's program at BI Norwegian Business School, in 1991 I said yes to a job at Accenture. Little did I know that 28 years later I would work in the same company as a top executive. I am in a lifelong relationship here and have always been challenged to take new and exciting roles.
I believe that I owe much of my success at the company to the fact that I am a rather stubborn person. Nevertheless, it was not a given that I would end with a top management job.
How Accenture is strengthening diversity
As the leader of Accenture Norway, I have more than 1,000 employees in Norway. This is due to the choices I made early in life, as well as the people around me, both privately and at work, who have supported me through my career. How have I come this far in my career? When I look back at what I have experienced and think through what is needed for us to get a more equal working life, it largely deals with the same things that Accenture has found out by interviewing more than 22,000 people in 34 countries.
In 2018, we sent out a survey with the goal of finding out what it takes to achieve complete equality in the workplace. Based on the results of the survey and my own experience as a female executive, I believe diversity in the workplace is best achieved through courageous leadership, setting clear goals, sharing those goals with employees and measuring results.
I believe that openness about what is expected of me as a leader and what I expect from my employees is a prerequisite for creating a good workplace. It's about making the right choices. We need to ensure that policies and procedures are family-friendly and support both women and men. We must be impartial in terms of gender when we attract and work to retain employees. It is when all these things are in place that we can really achieve results.
With the right routines and guidelines in place, our survey shows that four times as many women will move to Senior Manager or Director roles. The survey also shows that Accenture globally will have 84 female leaders for every 100 male leaders vs. the 34 as we have today. And that 95 percent of all employees, both women and men, will be more satisfied with their own career development, that they will most often be very fond of their job and that they have ambitions for a leadership position.
«I am proud that Accenture dares to set diversity goals»
In 1995, my daughter Aurora was born, and while I was on maternity leave I also got promoted to manager. For me, it was a good example of courageous leadership, which is one of the reasons I am still here today. I am proud of the work Accenture does to promote gender equality.
I am proud that Accenture dares to set goals for full gender balance globally by 2025. And I am proud that we show openness and admit that there is still work to be done.
I hope that as a female leader I can be an inspiration, and I look forward to working towards an even better, diverse and equal workplace in the future.
FIND OUT MORE: 16 international and Norwegian speakers will join us at our upcoming conference, Digital Leadership. On April 4, 2019, the world's top futurists, professors, authors and techies will share their experiences, predictions and insights. Meet the speakers and see the full agenda here!