The event experience begins the moment our customers, speakers, and partners leave their door in the morning. We know that their travel to the event is a key part of setting the stage for an optimal experience.
As Head of Transportation, you will be responsible for taking care of our attendees and working with logistics to ensure a seamless experience. You will also be coordinating tailor-made solutions for our VIP- and First Class clients, in addition to our speakers. This will all be done by working closely with our transportation partners.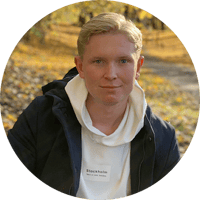 Filip Åkerholt,
Former Head of Transportation
"I learned more about myself and what it was like to throw myself into new situations and areas of responsibility. As a team leader, I was challenged to speak in front of an assembly, in addition to interacting and connecting with new people. Diversity, inclusion, and culture are the main focus at Oslo Business Forum. It is the people who make the company unique, and a conference will not succeed without the right people. People who dare to take chances and risks, who are able to ask questions and challenge the status quo."