Disruption to markets happen all the time, but the massive disruption driven by the pandemic and needed response to the climate crisis is putting organizations strategies to the test. The future winners have strategies that make them able to analyze, adapt and respond and find the next competitive advantage. Most organizations today have invested in advanced analytics, new technology platforms and business strategies, but only a few are able to really harvest from these to become winners of tomorrow.
In a world where technology has emerged as a mighty strategic disruptor, savvy strategists are looking to make clearer, more timely, and inspirational choices about future possibilities, continually scanning the horizon for new competitive advantages they can deploy and threats they should avoid.
40 percent of CEOs said their CIO or tech leader will be the key driver of business strategy in the next three to five years—more than those who named their CFO, COO, or CMO combined.
A growing number of organizations are also proactively pursuing novel competitive advantages by joining forces with existing and new ecosystem partners—from government and nonprofit agencies to complementary corporations and even "frenemies"—to envision how their combined offerings could expand where they play and how they win.
Winning in a volatile environment requires an integrated corporate and technology strategy, enabling organizational nimbleness, scalability, stability, and optionality. 1 The traditional process of strategy development is too infrequent and labor-intensive to enable strategists to sense and seize opportunities as they emerge. A growing number are shifting to a fluid and agile process for formulating, evaluating, and executing corporate and business unit strategies by employing technology tools that continually sense, anticipate, and monitor the effectiveness of their strategic choices and execution.
As a result, business and technology strategy have become increasingly inseparable, technology choices bear a greater role in enabling—or potentially
constraining—organizational strategy.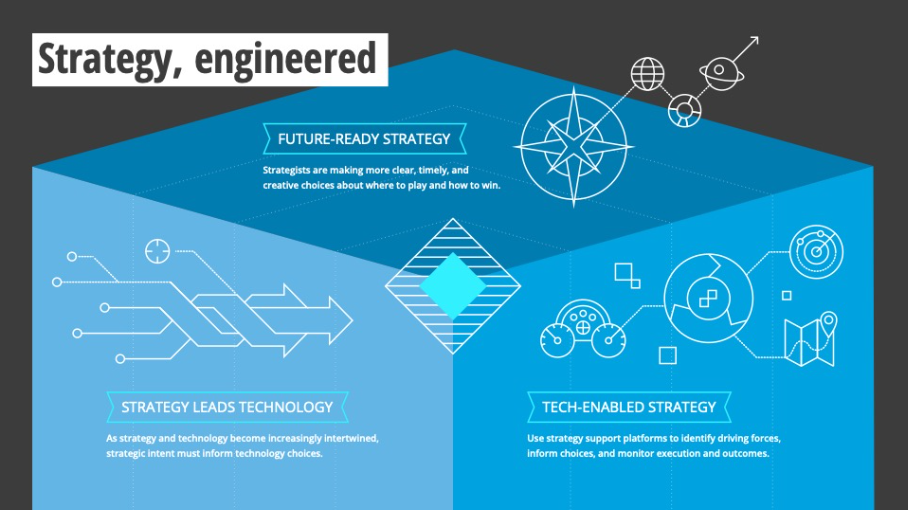 To respond to more frequent strategy shifts and updates, strategy implementation has evolved into continued learning cycles and business agility themes to adapt business models, organizational structures, or supply chains to the new ways of working.
While accelerating technology is a strategic complicator, executives can deploy it to simplify and accelerate smart strategy development and execution. Leading organizations are engineering their strategic function to be more agile, scalable, and stable, giving them an array of strategic options in their back pocket for whatever the future holds.
In the Deloitte Tech Trends 2021 we have provided a six steps on how to get there for leaders who want to become future ready when it comes to Strategy, engineered.
Empowered strategy function
Tech-savvy C-suite
Business-savvy tech leaders
Aligned technology and partners
Collaborative list of strategic assumptions
Agile funding
---
Join Tor Kramvik Sivertsen at Oslo Business Forum 2021: Rethinking Business Forum, 29. September!