EMBODYING THE SPIRIT OF UKRAINIAN RESILIENCE
Maryna Saprykina
Ukrainian Grit: Empowering Global Business with Extreme Resilience
Maryna Saprykina stands as a beacon of hope and a testament to the indomitable spirit of Ukrainian businesses. As a passionate sustainability consultant from Ukraine, she has spent over 15 years fostering socially responsible businesses in a landscape fraught with uncertainties. Through her lens, we get a vivid portrayal of how companies in Ukraine, against the backdrop of the most significant European conflict since WWII, harness resilience to not just survive, but thrive.

In her session, Maryna unravels the secrets behind the remarkable resilience of Ukrainian companies, painting a poignant picture of wartime sustainability strategies that fuel extreme business tenacity. This isn't just a story of survival; it's a narrative of transformation powered by courage, determination, and an unwavering commitment to sustainability even in the face of adversity.


01. DEDICATED SUSTAINABILITY ADVOCATE
Emerging as one of the top five finalists in the Speaker Contest 2023, Maryna's dedication to the cause is evident. With a heart rooted in her homeland and an eye on global impact, she introduces us to the 5-component model of sustainability during wartime. Her unique perspective underscores the fact that even in war, sustainability isn't a luxury; it's a necessity for business survival and growth.
02. INSPIRATIONAL STORYTELLER
Maryna's journey from a small town now occupied by Russia to the international stage is nothing short of awe-inspiring. Her story is a powerful reminder that true strength is born from adversity and challenges. With every power outage faced while recording or potential air raid during appointments, Maryna's resilience mirrors that of the Ukrainian businesses she speaks about.
Maryna's participation in the Speaker Contest aims to spotlight Ukrainian businesses' resilience. She believes the lessons from Ukraine can be a blueprint for businesses worldwide in today's unpredictable world.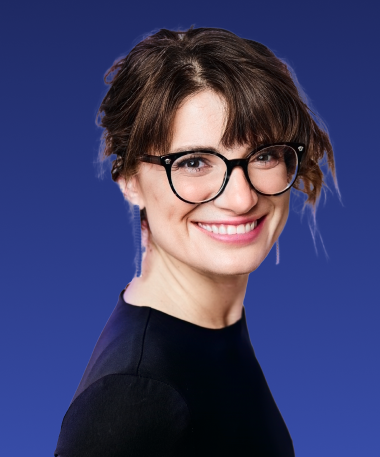 What to learn from Maryna Saprykina?
Ukrainian Grit: Empowering Global Business with Extreme Resilience
Engaging with MySpeaker Rhetoric coaching, Maryna showcases her commitment to growth and excellence. The coaching not only refined her speech but also bolstered her confidence, turning perceived weaknesses into strengths and enabling her to present with renewed vigor.
Learning points:


Learn from the challenges and survival stories of Ukrainian companies to increase business resilience.
Uncover how their wartime sustainability strategies fuel extreme business resilience.
Propel your own business with the same courage that powered the journey of Ukrainian companies to recovery and transformation.
Join us as Maryna Saprykina takes the stage, promising to redefine your perception of resilience, transformation, and the unparalleled spirit of Ukrainian businesses.