Tommy Thovsland is the COO and Development Director of R8 Property, which works to develop properties and communities in central Norway. R8 strives to create a sustainable future where property and people go hand-in-hand, and Tommy focuses on strategy and systems to create positive outcomes.

At Oslo Business Forum, Tommy encouraged leaders to reimagine their traditional office spaces by embracing more flexible work models.
A more flexible work model

There's no denying that the world is changing rapidly, and the shift in the way we work has many leaders rethinking traditional work models.

It began during the pandemic when the line between family and work was nearly erased. As more and more people began to work remotely, questions were raised about the use of home offices and who was responsible for the equipment employees needed to effectively work from home: the individual or the organization. This led the Norwegian government to revise the law for the use of home offices, which now requires a signed agreement between employers and employees.

"What is the alternative to the home office?" asked Tommy.

He posits that it could be a flexible office, co-working or flex space—all of which experienced huge growth during the pandemic and will continue to rise in the years ahead. With this shift toward more flexible work models, the interpretation of a company's headquarters is changing.
Reimagining the future of work

Tommy has seen leaders embrace more flexible work models by seeking fewer square meters in office space, which can enhance their employer brand and boost recruitment.

Imagine an employee who would like to work for your company, but the location of your headquarters would make their daily commute too long. With a flexible work model that makes use of satellite work locations, the employee could work at a site closer to their home and occasionally come to headquarters to connect with the company and the culture.

"Headquarters is where you build culture, brand, and meet employees," said Tommy. "If you connect headquarters with satellites for a beautiful interface, this is our interpretation of a flexible work model."

Reimagining your approach to office space comes with many benefits:
Access to a larger workforce. Embracing a more flexible work model allows companies to access a larger workforce and opens the opportunity to attract top talent from a wider pool.


Ability to scale up and down. A flexible work model allows companies to adapt to the needs of their business, increasing or decreasing office space to accommodate peaks and valleys in staffing.


Reduced carbon footprint.

Adopting a flexible work model allows companies to create a more sustainable profile. The building industry is responsible for over 40% of greenhouse gas emissions, but less than 50% of our buildings are occupied. "We have to attack the use of buildings," Tommy said.



In closing, Tommy challenged leaders at Oslo Business Forum not to think of their headquarters in square meters but as a place to build their culture, inspire their teams, and create flexibility to tackle an ever-changing world.
Key Points
The shift towards remote work since the pandemic has many leaders rethinking their approach to traditional office space.

Embracing a flexible work model and reimagining our offices will create:




Access to a wider workforce.

The ability to scale up and down.

A reduced carbon footprint.

An alternative to the home office and traditional workspaces.

Think of your business' office space as a place to build culture, inspire teams, and create flexibility in an ever-changing world.
Questions to Consider
Where do your employees work today? How flexible is your current work model?

Are you making the best use of your existing office space?

How would embracing a more flexible work model allow you to better engage employees? To better scale your business?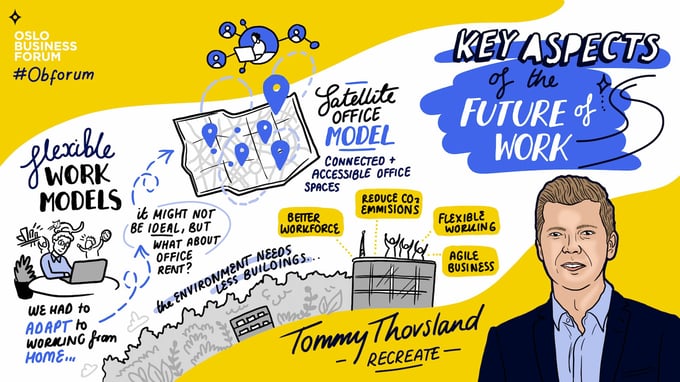 Want to be a part of the OBF community? Join Oslo Business Forum 2023: Thriving in Chaos now!