A childhood incident caused trust expert Rachel Botsman to take a new view on whether people can be trusted or not.
You may have booked a house or apartment through Airbnb? Traveled with an Uber driver? Dated someone you meet on Tinder? Or sent money using Vipps?

All of these are examples of how technology is changing trust between people and institutions.

- There is a shift in trust from institutions to individual individuals, explains trust expert Rachel Botsman, author and lecturer at Oxford University.

She is an expert on how collaboration and trust through digital technologies will change the way we live, work and consume.
The first lesson on trust not soon forgotten
Botsman had a good upbringing. Already as a child she was fascinated by how we trust unknown people and things.

But when she was five, she got experienced her first lesson on trust.

- A lady named Doris came to live with us in our home in Australia. When she arrived, she was wearing a complete uniform from the Salvation Army. She had a thick Scottish accent and lived with us for ten months as a nanny. She was a good nanny - happy, reliable and helpful.

One day, that impression of Doris the nanny suddenly changed.

Doris had disappeared.

Botsman's parents went to the neighbors. They had an au pair, which Doris used to spend a lot of time with.

- It turned out that both Doris and the neighbor's au pair had been dealing in drug sales, and had been involved in an armed robbery.

Both parents are described by Botsman as generally smart and rational people. Still, she began to think about how they could drastically misjudging another human being.

- They probably thought they had information to make a decision about Doris, but there was a lot they clearly didn't know about her. I now call it a "Trust Gap."

A "Trust Gap" is the difference between one's own expectations and the actual experience. But this story points to something that is critical when it comes to trust:

- The illusion of information can be far more dangerous than ignorance. Despite the fact that I have been in the care of someone who has been dealing in drug trafficking, I have always been open and trusting.
Botsman: It's about simplifying the complex
Are "open" and "trusting" personality traits compulsory according to expert in trust, Rachel Botsman?

Botsman is referred to as one of the foremost experts on trust and sharing through technologies that connect people.

Her book, What´s Mine Is Yours: How Collaborative Consumption Is Changing The Way We Live was one of the first to inspire a new consumer economy.

In addition to lecturing at Oxford University, she is frequently interviewed in major international media such as the New York Times, Wired, The Guardian, BBC, CNN and Harvard Business Review.

Her TED talks have also been viewed more than four million times and are subtitled in 29 languages.

The merit list is long for the acclaimed author and lecturer from Australia.

Through humorous and thoughtful stories that simplify complex ideas, Botsman makes them understandable to most people.

This is evident in her TED Talks, and when she was on stage during the Oslo Business Forum: Leadership in Changing Times in April 2018.
What is the red thread in Botsman´s work
Simplifying complex ideas is the red thread that runs through Botsman's work.

- I am researching major structural changes happening in the world to answer how the shifts created by new technology completely transform our lives.

She simplifies complex ideas within technology and trust with the goal of educating and connecting others.

- Then the most fun thing I do is find out how what I teach away can sit with the recipient, so that it connects people.

Botsman has a unique expertise that spans several disciplines.

- I've always had the pleasure of working with many different disciplines. It could be research, politics, economics or technology, to try to get a clear, long-term perspective on the changes happening in society, she says, adding:

- When I point out an idea to people, and it seems obvious, I know it's ready for the world.
Trust has shifted from institutions to individuals
She talks about her latest book, Who Can You Trust.

- It explains the massive shift in trust that goes from institutions to individuals. It's simple, right? But it involves studying everything from bots, Brexit and blockchains.

Botsman explains that the shift in trust is reflected in how we interact with our bank, how we work, how we consume - and even how we vote in elections.

There are two examples in particular that Botsman cites, which she believes illustrate how the consequences can be both good and bad: Airbnb and Facebook.

- Let's take Airbnb first: It is remarkable that more than two million people live in foreign homes across 191 countries every single night.

But then the question is: When things go wrong in this brave, new world of trust - who is responsible? Is it the users or the company?

- We see similar problems with accountability on Facebook and the serious Russian interference in the US presidential election.

She explains that the platforms can no longer claim to be disruptive, neutral platforms that connect consumers.

- But we must also be careful not to become scapegoats for our own behavior.

As trust shifts, more companies are experiencing a changing market and competition situations. How, then, will they survive the next technological revolution?
The role you have in customers' lives for the next decade
- It's easy to get distracted by experimenting with new technology, when it's still unknown. Whether it's artificial intelligence, automation, blockchains or anything else, Botsman says, adding:

- It's critical for companies to understand these new technologies, but what's most important is understanding their deeper impact on our behavior, says Botsman.

Companies are not "disrupted" by a new entity or service.

- Companies become "disrupted" when their role becomes irrelevant in our lives.

According to Botsman, it is essential that companies ask themselves what role the company should take in the lives of customers over the next decade - which is valuable.

- Take car companies as an example. They have realized that they may not be able to continue operating by selling cars, but mobility services that get us from A to B.

It is usually painful for a company to admit that what they have been delivering for years is no longer necessary for consumers.

- But it is far more painful to watch the sunset of your business model and realize that you could have done something sooner.
How can you strengthen consumer confidence?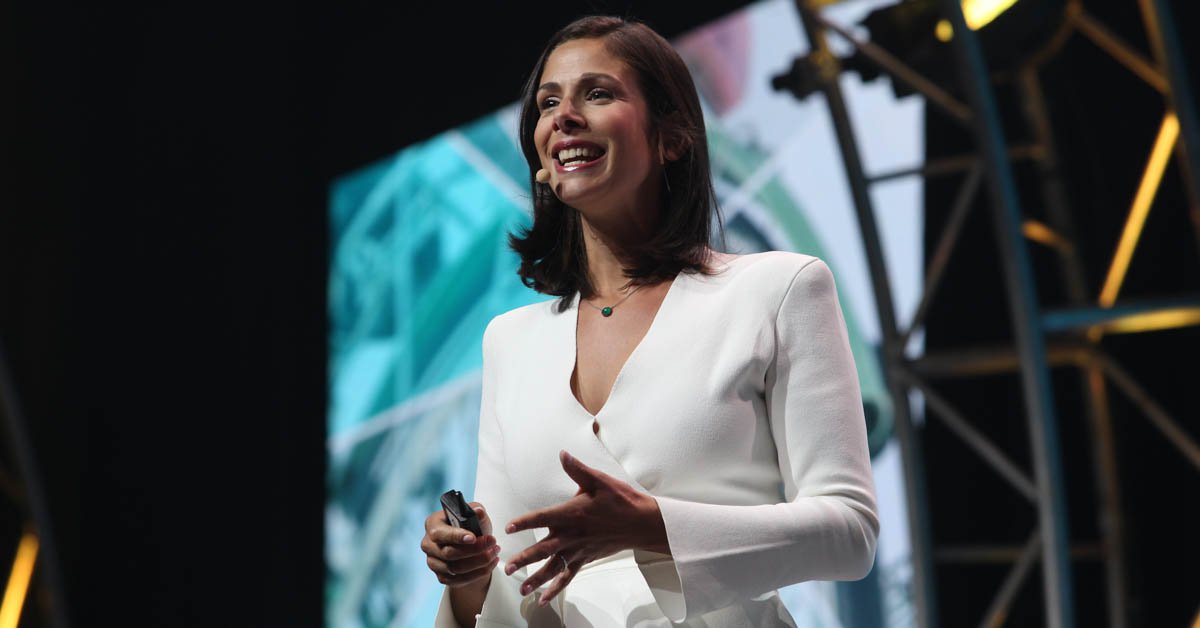 - Trust is not something that is given: it must be earned and maintained over time. The key is to become more honest and truthful.

Botsman says companies often focus on expertise and reliability in their products and services.

- Yes, it's important. But how we do things is not enough. The company's integrity and goodwill - why we do this - are really the most important factors in maintaining trust, Botsman says, before adding:

- Essentially, it is about the company's intentions being adjusted for the best interests of the customers.

In this area, companies in the Scandinavian countries have potentially great competitive advantages. They are globally regarded as countries with a high degree of trust.
ALSO READ: Are the Nordics Rich and Successful because of Oil?

- Companies that have a high degree of trust are in the best position to innovate. You have to rely on your employees to take risks, to swim in a sea of ​​uncertainty, without necessarily knowing what the outcome is going to be.

According to Botsman, you should consider trust as the company's most valuable resource: as liquid gold for your teams to collaborate and ultimately create something.
Are tips for Scandinavian companies looking to meet the future in the best possible way?
Don't be an ostrich and hope that a change or threat is a short-term trend and will just go away.

Don't be a fighter and try to resist the changes by introducing too many regulations.

Be a pioneer.




Embrace the real "disruption" that is happening: It's not the new technologies, but how they are changing the way values and trust flow from the company to the user or the customer

Look at the changes and changes outside your own industry. It is the best way to get out of the valley where you think about what you think is going to happen.
Millions of people trust strangers daily. Do you?
Examples of companies that have used trust - and especially in the sharing economy - to create business, Botsman has several of them.

- The fact that ideas like Airbnb and Uber have become commonplace has shown that millions of people, across cultures and generations, are open to using technology to trust strangers.

According to Botsman, it is remarkable to believe that these projects were rejected by investors less than ten years ago because they were considered too risky.

"On the one hand, these companies have become sort of front figures for sharing economy models and paved the way for a stream of funding from other startups in the same category," she says before, adding:

- The downside to their popularity is that people tend to think of the sharing economy as these massive network monopolies.

And that's far from the whole picture...

- There are many smaller networks like Peerby, The Food Assembly, and let's say Good Gym that allows people to share their time, skills and resources. But to a greater extent at a local level.

- I hope the movement continues to embrace the local and human sides of these ideas.

The shift in confidence is a global fact, according to Botsman.

When asked what participants can expect from her at the upcoming Oslo Business Forum, Botsman replied, "Believe me. The experience will be challenging and entertaining!"

On September 23-24, 2020, Oslo Business Forum will host its annual leadership conference. Rachel Botsman will be there. Will you?
See the full speaker lineup here.