We continue to work from home, some get to choose, and some do not due to the continued Covid-19 pandemic. Some love the flexibility, some are tired of working from home. Either way leading a remote team this way requires more of you as a leader, and I will highlight where you need to focus.
"This new way of working,
requires a different way of leading"
I use an abbreviation to prioritize key focus areas when leading people from a distance and I will break this down in more details. BITS in Norwegian: Bevisst, Inspirerende, Tydelig og Strukturert translates into IICS : Intentional, Inspirational, Conscious and Structured.
Intentional, in remote leadership
As a remote leader you need to revisit how you lead. It is key to spark the energy, especially for those who do not get to choose, but still must continue working from home offices. You need to strengthen the sense of belonging, establish a shared purpose, and give clear goals. Communicative skills and relations skills to understand and lead everyone will make a difference. Start by developing Remote leadership practices for your company and leadership team, "this is how we and I lead in this new way of working, short and long term". You also need to look at the structure for interviewing, onboarding and offboarding. All these processes should be updated if you allow for mixed working premises.
Inspirational, encourage team collaboration
When you onboard a new team member, or lead a remote team, a well-established and shared identity helps when employees do not meet regularly. Start with the ties that bind your employees together. Invest time for the team to meet, your employees will feel included and they increase their network. During this pandemic be creative to make sure people still get to meet face to face. I suggest walk&talk outdoors and working in pairs on new projects as areas to explore.
When I was leading a team in Microsoft, across EMEA, transforming Microsoft into the market leader in Cloud back in 2010, one of our keys to success was attracting talent. To achieve this, I needed to strengthen others awareness of the team, and team individuals. I exposed the team member to more senior leaders, introduced skip level 1:1 meeting, online and face to face. We trained the team together, empowered them as much as possible and as close to the customers as possible, working in an agile way. Leading people remotely is all about trust. The team members worked from their home office or the regional office, at the hours that worked best. I paid attention to the outcome, what we wanted to create and build, not to where they were sitting or the hours they worked. Trust, empowerment as well as sharing is key.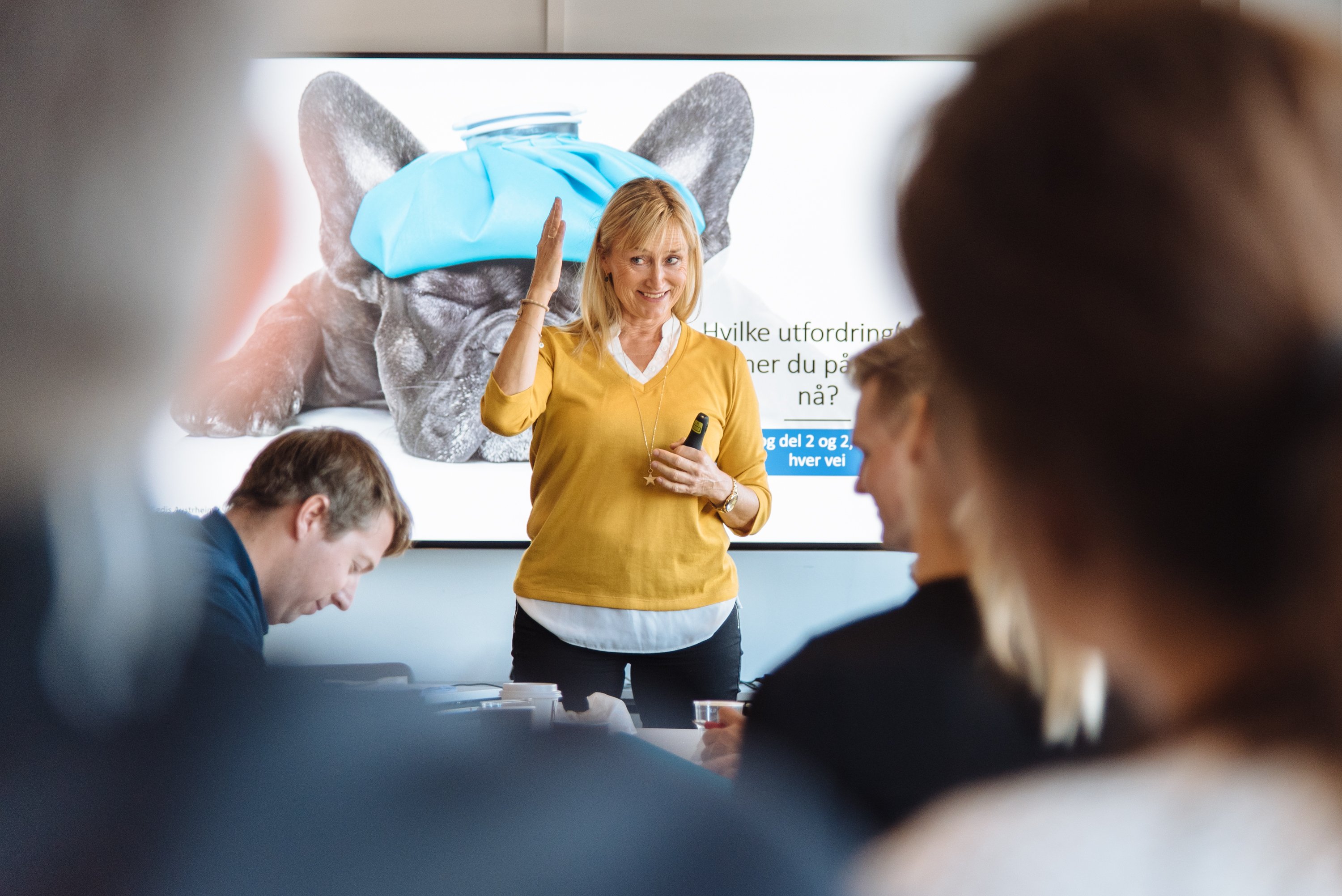 Picture: Vigdis Austrheim has broad experience from Norwegian and Nordic businesses, as an entrepreneur and as a senior executive in large international companies. Vigdis has led remote team for 10 years, has a unique leadership experience from Microsoft's international headquarter in Seattle, USA. She has also worked with organizational culture as a senior adviser in Great Place to Work.

Clarity to avoid uncertainty
Make sure everyone in the team knows what is expected of them and what empowerment they have. Create 'safe' spaces to learn from mistakes. Psychological safety matters even more in a hybrid workplace, so this requires more attention. A feeling of safety can be harder to create with some people working on-site and others working remotely so be open and share as often and much as you can.

In addition to giving teams clear objectives, the accountability and autonomy for delivering them, leaders need to guide and enable their teams, helping them overcome bureaucratic challenges and giving them the tools, they need to move fast. Be a proactive supporter and coach, one it is easy to connect to so make sure you have open slots in your calendar for the team.
Structure is key
To lead people remotely more structure is key. You need to structure also the unstructured!

Schedule meetings way ahead in the calendar for the team to be able to plan around the meetings. Always send meeting invites from eg. Teams. Storebrand, a leading Nordic Insurance company does this. In a mixed environment you do not really know who comes into the office and who is working from home, so making every meeting online as a default practice, supports this way to work. This also goes for an unplanned coffee or lunch. Bring an IPAD with you and include the ones who want to join from their home or remote office.

Ensure that the onsite team members teams do not mishandle conference calls such that remote workers feel overlooked, and when collaborators use on-site white boards rather than online collaboration tools. The remote and home office users will rapidly feel overlooked and they disengage.

Informal interactions, which occur more naturally among co-located employees, is not easy in a virtual environment. You need to establish a structure to make unstructured interactions take place. One approach is to leave a part of the meeting agenda open, as a free time for the team to discuss any topic. Or adding smaller weekly meetings without an agenda, running cross segment workshops and social get together is key, like online coffee and virtual coffee rooms.

Role model the behavior you want to see and establish your own remote leadership practices
Succeeding boils down to leadership and management styles. It might seem obvious, but research shows that leaders consistently fail to recognize how their actions affect people around them. By working from home a few days, a week, yourself, or scheduling meetings from the project location, you signal that you do not need to be in the office to get ahead.

Be Intentional, Inspirational, Conscious and Structured when leading people in mixed office environments, this will take you a long way.

McKinsey research from 2017 shows that selecting the right combinations of practices create superior organizational performance. Starting with a few defined practices, e.g. Inviting all meetings from Teams and tracking results against the practices can help. Test, track and evaluate, over time, to ensure that you manage to keep the team motivated, your performance and culture intact in this new mixed working environment.

The 24th of September 2020, Oslo Business Forum will discuss remote leadership and other related topics at the online conference 'The New Normal'. With world-class speakers, virtual networking and actionable insight, we are taking online events to a new leve.

Want to join us?

Sign up for the online event here!

You don' want to miss this!