During the period when COVID-19 infection control measures were at their strictest, even people who were sceptical about shopping online were almost forced to make their purchases digitally. Has our consumer behaviour changed forever?
We all know a person who is sceptical about shopping online. For example, my mother prefers to shop in a "bricks and mortar" store where she can see and touch items, and she really appreciates help from the store employees in her favourite clothing store or pharmacy.

She is by no means alone in that. According to a global survey by Salesforce, 65 percent say they prefer to go to a store when buying a product for the first time. Most of the survey respondents also say that they prefer a physical transaction because they can see and touch items, get an item immediately and have a good shopping experience.

When the Corona crisis peaked for a few months, it put clear limits on our ability to shop the way we like best -- in our local grocery store or favourite clothing shop. What did not change during this period was the demand for good customer experiences. The key issue quickly and clearly became apparent to stores: "How do we ensure that the majority of Norwegian consumers who are sceptical of online shopping get a digital shopping experience that is at least as good as the physical one?".

The global Corona pandemic left many businesses struggling to meet the growing digital demand that arose. It was worst for the businesses that were overly dependent on their physical stores, and which had not really started providing good customer experiences online. Although it may be too early to learn specific lessons from what we have been through, most of us are still like my mother: We choose to visit the physical store rather than the online store because we value the experience of being able to see and touch the product, to get it immediately, and at the same time to get good personal service and advice.

Retail, for example, is an industry that was hit hard and had to adapt to the new digital norm. If this industry is to succeed digitally in the future, it must ensure that it is able to combine the power of physical and digital purchasing.

Retailers must ensure that all the knowledge their store employees have is made available to customers digitally, to give them a more personalized and enhanced shopping experience.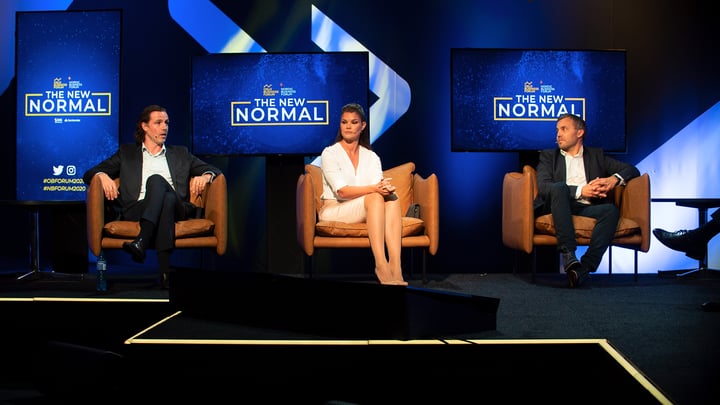 Picture: Monica Beate Tvedt, Technology Director in Forte_ Digital, during Oslo Business Forum 2020.

At the same time, a digital step up is also required, including new digital platforms, better utilization of existing data, and a comprehensive modernization of the current IT architecture. In this way, stores can ensure that my mother not only gets a good customer experience when she shops online for the first time, but that she and everyone else continue to shop online in the future.

In a crisis, tough priorities are necessary. Now it is up to the stores to exploit the long-term benefits of the tough decisions already made. The choices of today will be crucial to sales and results for many years to come.

The online pharmacy Farmasiet.no is an example of a player that has succeeded in this endeavour, and has experienced enormous revenue growth in the wake of the Corona crisis. In March, Farmasiet estimated that it had a turnover growth of 200 percent, and in the last three months it has experienced a tripling in sales of prescription medicines.

At the same time, recent figures from Statistics Norway show that Norwegians' online shopping has increased by 6.8 percent since last year, which shows that many other online stores have experienced a similar development.

Customers who previously insisted on getting all their medicines and prescriptions from the pharmacy store now get an equally good customer experience online, and will in all probability continue to shop online after Corona. Once they have discovered how easy and convenient it is to shop online, why should they go back to the physical store again? In other words, their consumption patterns may have changed permanently.

It is only a matter of time before other players in the retail trade experience a similar development. But that of course depends on them managing to create good digital customer experiences.

Text is written by Monica Beate Tvedt, Technology Director in Forte_ Digital.