To truly reimagine work, organizations must set up an integrated digital workplace with a robust strategy, including a strong change and activation plan.
In Brief
To successfully reimagine work, organizations must take a holistic view of the workplace including bytes, bricks and behaviors.
Bytes or the digital workplace refer to the tools and technology required to support a great employee experience and to work in an efficient way.
A successful digital workplace can help improve the organization's efficiency, engagement and innovation, while reducing costs as well as their carbon footprint.
Organizations across the world have displayed remarkable resilience and adaptability as they made the transition to remote working in the face of the COVID-19 pandemic and the ensuing declaration of public emergencies. Though this shift toward remote working had been going on for long, it was the global pandemic that accelerated this trend. The challenge before organizations now is to create a hybrid work model suited for the needs and demands of the future workforce.

Businesses are already looking at more radical solutions, making change faster and seeking to transform both bytes, bricks and behaviors. A seamless integration of the three is required to successfully reimagine work. In this article the focus in on bytes, or in other words the user-centric digital workplace that enables a great employee experience regardless of time, place and setting.

The workplace of tomorrow
The already ongoing paradigm shift that was accelerated by COVID-19 has greatly increased the usage of and changed the way we are working with digital tools. As we look back in time, we have come a long way from working with physical mail to email to employing virtual collaboration tools such as Microsoft Teams. According to the Remote Work Trend Report published by Microsoft, there has been a new daily record of 2.7 billion meeting minutes on Microsoft Teams in a single day. This translates to a 200 per cent increase from 900 million minutes in mid-March, around the time many businesses shifted to remote working. This is what is happening right now, but what comes next and beyond? Needless to add, the workplace of tomorrow will look completely different. As we move into a hybrid-work world with the support of existing and emerging digital tools, the way we work will be completely different and we will be able to enjoy a better, more integrated employee experience.

So, what does the digital workplace look like? The digital workplace is a collection of digital tools and enablers that makes it possible to better leverage the knowledge of the collective organization for greater efficiency, engagement and innovation. This includes the collaboration technology and knowledge management tools that enable us to work and collaborate in teams and communities but also the business applications that are required to conduct our daily work. It is also about the hardware and technology that help us to integrate the digital and physical workplace. This includes smart screens, virtual whiteboards and other smart office technology.

As we move into the future, we see the emergence of employee experience platforms. One example is the recent product launch of Microsoft Viva from Microsoft that will help improve the employee experience by better integration of communication, collaboration, knowledge, insights, learning and much more. The workforce of today are used to consumer-grade applications and experiences in their personal lives. The experience in the digital workplace should thus be on a par with what they are accustomed to.

Organizations acknowledge the need for a great digital workplace, though many still have a long way to go. According to the Physical Return to Work Reimagined (PRWR) survey, 79% of employers are looking to extensively/moderately change digital workforce tools, while 84% of employees are looking for better digital tools. In order to succeed, organizations need to execute a comprehensive digital workplace strategy so as to unlock new value drivers.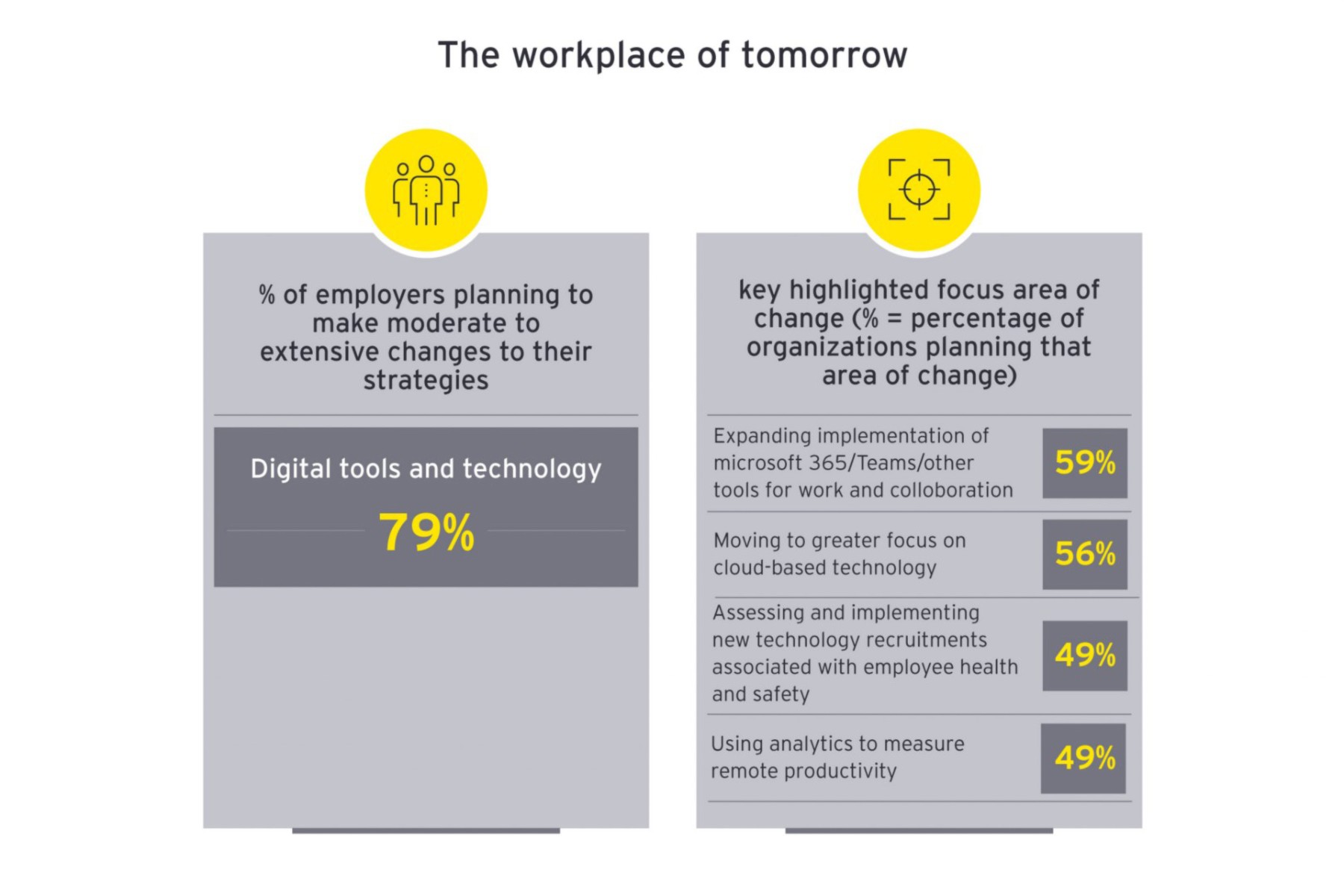 By establishing a seamless digital workplace, organizations can drive efficiency, engagement and innovation while at the same time also reducing costs as well as their carbon footprint through the use of fewer applications, more cloud-based technology and reduced travel.
The road ahead
The current paradigm shift will completely change the way we work in the future. Organizations must ensure to have a robust strategy in place to drive these new behaviors. To deliver great experiences, they will have to set up strong cross-functional governance structures for the workplace that covers the complete employee experience including bytes, bricks and behaviors.

In order to create an outstanding digital experience, the digital workplace must be designed with the end-user at the center. Let people's voices be heard by using crowdsourcing and reference groups to aid in the design and ensuring that technology solves their most important use-cases.

Data and analytics are key to understanding patterns and continuously improving solutions. Applications such as Microsoft Workplace Analytics can be utilized to measure real effects on collaboration, meeting patterns and so on.

Most importantly, the digital workplace is not successful until you change real behaviors and achieve real business goals. It is not enough to implement great technology and tools. You need to drive the change with a strong and engaging change and activation program.
Summary
Bytes or the digital workplace is one of the three key integrated components required to reimagine work and deliver an exceptional employee experience. It can help your organization drive efficiency, engagement and innovation while at the same time reducing costs as well as your carbon footprint. This paradigm shift calls for completely new ways of working and behaviors and requires a robust change and activation plan.
---
Get your online ticket for Rethinking Business 2021!