A large part of the attendee experience of Oslo Business Forum is influenced by the various Norwegian and international speakers and entertainers performing at the conference throughout the day, across all of our stages.
As a Speakers Team Leader, you will be given the responsibility to make sure our speakers have everything they need throughout their conference experience. This includes following up on them and their agencies, coordinating transportation, hotels, and other relevant tasks. Moreover, general responsibility areas include:
Preparing speakers for their keynote sessions through briefing calls
Planning smaller logistical tasks related to the speakers' visit, including transportation logistics and hospitality
Managing a team of Ambassadors (volunteers) who will be responsible for the speakers during their visit
Conduct training sessions for said team
Planning the details of the Backstage Area for speakers
Speaker Team Leader
Criteria
We are looking for you who...
Are flexible, proactive, and burn for outstanding customer service

Genuinely enjoy learning and self-development

Can embrace and adapt to change

Have a positive attitude and accept challenges!

Enjoy teamwork

Can dedicate weeks 38 and 39 to the execution of the conference

Is fluent in English - written and spoken

Has a Class B Driver's License

H

as participated at Oslo Business Forum 2022 before as an Ambassador (volunteer)
The Application must contain (max. 1 page):
Birthdate and year of birth

Study program

A text explaining why you are interested in becoming a part of the team


Describing experiences and abilities that may be relevant for the position, indicating why you would be a good fit for the position

Whether you have participated as an Ambassador in the past

A confirmation of the following:

Driver's License

Your availability in weeks 33-39

Your English skills

Contact information
Please remember to include your CV as well.
Deadline: Tuesday the 11th of April 23:59.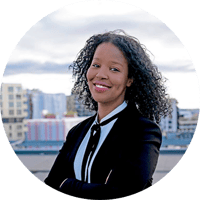 Najma Omar,
Former Speaker Team Leader
"Personally, I felt that I grew a lot - the experience taught me how I can organize my time better and how I can be as efficient as possible. I learned how to communicate constructively within a team and gained a lot of knowledge in how the conference industry works. My experience was also quite attractive on the CV, and I was asked about OBF and my experience in interviews, which led to my job as an Event and Meeting Consultant at Radisson Hotel Group."