Oslo Business Forum is now looking for our new Social Media Team Leader for OBF 2023. Our team always focuses on developing our brand through marketing work and building press relations. This is a core aspect of increasing brand awareness and ensuring OBF to be positioned in the right spot.

As the Social Media Team Leader you will get to work closely with our marketing team and the marketing of our conferences, across our different channels. You will learn how we work to always stay in front. In this role, your responsibilities will include:
Develop and execute social media strategy: Develop a comprehensive social media strategy that aligns with the company's goals and objectives. Together with 'Marketing Wizard' in OBF; Simeon Mathyer.
Manage all social media accounts (such as Facebook, Twitter, LinkedIn and Instagram) by creating, copywriting and posting content, and engaging with followers. Learn how to be engaging, informative, and on-brand.
Engage with followers: Engage with followers by responding to comments, messages, and reviews, and proactively seek out new ways to engage with the community.
Conduct social media audits: Conduct regular social media audits to ensure that all accounts are up-to-date, accurate, and aligned with the brand's messaging and values.
Social Media Team Leader
Criteria
First of all; we are looking for a team leader that we can offer extremely relevant work for their role. But we are looking for someone who wants to develop their social media/marketing-skills, and see a future in this soon. Skills wanted (but not needed):


Social media expertise: A good understanding of the major social media platforms (Facebook, Twitter, LinkedIn and Instagram) and their respective audiences, algorithms, and best practices.
Communication skills: Good communication skills, both written and verbal, to create compelling social media content and engage with followers.
Creativity: A creative mindset to develop innovative and engaging social media content that aligns with the brand's messaging and values.
Customer service: A customer-focused mindset to engage with followers, respond to comments and messages, and proactively seek out new ways to engage with the community.
If you don't have these skills already, no problem. We will train you! 😊
The Application must contain (max. 1 page):
Birthdate and year of birth

Study program

A text explaining why you are interested in becoming a part of the team


Describing experiences and abilities that may be relevant for the position, indicating why you would be a good fit for the position

Whether you have participated as an Ambassador in the past

A confirmation of the following:

Driver's License

Your availability in weeks 33-39

Your English skills

Contact information
Please remember to include your CV as well.
Deadline: Tuesday the 11th of April 23:59.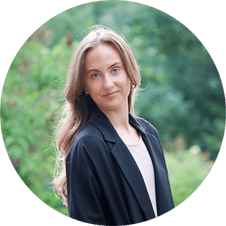 Linda Mylly,
Former Social Media Team Leader
"Throughout this program, I gained the confidence to share my ideas and thoughts while taking the lead, making an impact, and leaving a mark. I learned to become a better communicator, listener, and leader. I strongly believe that your network is your net worth, so making relationships is the key to career growth - this program is a great way to start building that."