An integral part of our conference is our partners who are a part of our Networking Area. This is where they can show off their newest innovations within technology and help create a unique experience for our attendees. In the role, you will be given the opportunity to work with our exciting partners and plan their activities at our conference.
As a Commercial Team Leader, you get to work closely with our partners; assist them with the planning stages of their conference activities, setup, and throughout the event. You will be involved in organizing our partner events, coordinating partners at the event, and ensuring they receive the necessary follow-up, together with your team of ambassadors. Moreover, general responsibilities include:
Partake in the planning of partner events prior to the conference
Coordinate and facilitate the execution of partner activities at the conference, such as speaker sessions, stands, meeting rooms and other partner activities
Managing a team of Ambassadors (volunteers) who will be responsible for the various partner activities during the conference
Conduct training sessions for said team
Facilitate the construction of stands and other partner-related activities at the conference
Prepare and facilitate private partner lounges at the conference
Commercial Team Leader
Criteria
We are looking for you who...
Are flexible, independent, and passionate about outstanding customer service

Genuinely enjoy learning and self-development

Can embrace and adapt to change

Have a positive attitude and accept challenges!

Enjoy teamwork and can create trusting relationships

Can dedicate weeks 38 and 39 fully to the execution of the conference

Are fluent in English - written and spoken

Have a Class B Driver's License

Have participated at Oslo Business Forum 2022 before as an Ambassador (volunteer)
The Application must contain (max. 1 page):
Birthdate and year of birth

Study program

A text explaining why you are interested in becoming a part of the team

Describing experiences and abilities that may be relevant for the position, indicating why you would be a good fit for the position

Whether you have participated as an Ambassador in the past

A confirmation of the following:

Driver's License

Your availability weeks 33-39

Your English skills

Contact information
Please remember to include your CV as well.
Deadline: Tuesday the 11th of April 23:59.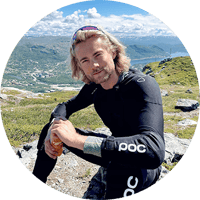 Sindre Hellesmark
Former Customer Experience Team Leader and intern at OBF
"The Leadership Program was a great opportunity to put into practice the leadership theories that I had learned in school. I also used my experience at OBF for a job interview where I ended up getting the job. The company really liked that I had previous experience as a Team Leader, and as a result of that, I was immediately assigned to a project where I had to lead others."