In Oslo Business Forum we consider the ambassadors to be the most essential part of our conferences and need the right people with us. One of the things we are most proud of is the quality and amount of ambassadors that choose to be part of our conferences. We must ensure they have the best possible experience working with us and help us ensure a world-class experience.

As the Ambassadors Team Leader, you will be responsible for recruiting ambassadors to our conference and organizing events for them. The goal is to foster a sense of community to ensure everyone has what they need. Moreover, general responsibilities include:
Evaluating Ambassador applications and dividing the Ambassadors into their designated team
Communicating important information to Ambassadors and making sure they are well oriented
Being the point of contact for ambassadors when questions or other inquiries arise
Collecting information from ambassadors that are relevant to the execution of the Ambassadors Program
Facilitating the Ambassador Area at the conference and making sure the needs of our Ambassadors are met
Planning and leading events such as training days, introduction meetings, and preparation days
Ambassador Team Leader
Criteria
We are looking for you who...
Are not afraid of taking the lead and speaking in front of bigger crowds

Are flexible, proactive, and burn for outstanding customer service

Genuinely enjoy learning and self-development

Can embrace and adapt to change

Have a positive attitude and accept challenges!

Enjoy teamwork

Can dedicate weeks 38 and 39 to the execution of the conference

Is fluent in English - written and spoken

Has a Class B Driver's License

H

as participated at Oslo Business Forum 2022 before as an Ambassador (volunteer)

Bonus: Has experience with Microsoft Excel
The Application must contain (max. 1 page):
Birthdate and year of birth

Study program

A text explaining why you are interested in becoming a part of the team


Describing experiences and abilities that may be relevant for the position, indicating why you would be a good fit for the position

Whether you have participated as an Ambassador in the past

A confirmation of the following:

Driver's License

Your availability in weeks 33-39

Your English skills

Contact information
Please remember to include your CV as well.
Deadline: Tuesday the 11th of April 23:59.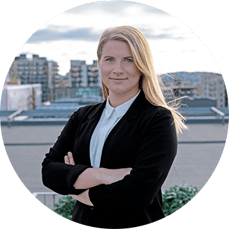 Silje Borger,
Former Ambassador and Logistics Team Leader
"Being a part of the leadership program has been a great opportunity to learn about the business. As a student, I got to transform theory to practice. I got to experience firsthand how it's all connected, from small details to large decisions. Together as a team you work towards common goals and help each other grow, both professionally and personally."