Live webinar:
Leadership in Changing Times
Thursday 16th of April, 11:00-11:45, Norwegian time (CET)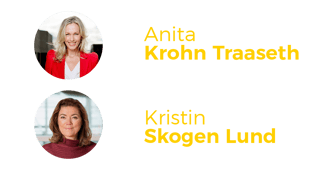 COVID-19 is creating significant challenges for leaders at all levels and for organizations of all sizes. Join in to a conversation between two of Norway's well known and experienced top leaders, where Anita interview Kristin about her leadership role the past weeks. What does it take to be a leader during changing times?
Discussions will include how to:
Lead through change and "Black Swans" like Corona: The need for communication, clarity of actions and maintaining trust and relationships

Lead through virtual teams, meetings & remote work

Build a culture that embraces change and adaptability, and at the same time having to cut costs and limit freedom of choices
Sign up for the free webinar