WEBINAR:
The Future of Banking: How to Elevate Digital Experiences and Understand Customer Context
Monday 12th of October, 10:00-10:45, Norwegian time (CET)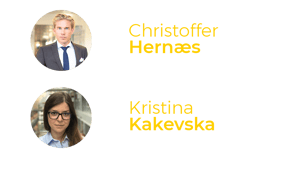 McKinsey research shows that the average digital adoption rate jumped from 83 to 96 percent during the pandemic in Norway, showing the customers expectations and huge potential regarding digitalisation. A bank should extend value across the customer journey in every channel. Having a fully integrated and digitalised organisation will allow banks to gain access to a larger potential revenue and richer customer relationships. During this session, you will learn how the future for banking looks like and how to differentiate your brand in this era of change.
In the webinar, you will learn:
- What's driving the change in banking and what does the future hold for the industry.

- How to create unified digital banking experiences that exceeds customers expectations, while maintaining core processes.

- What is the perspective of Salesforce banking customers in Norway on the highlighted industry shifts and how are they utilising Salesforce to drive change in their organisations.
About Christoffer Hernæs:
Christoffer Hernæs is an independent advisor on change management and business development, avid blogger and experienced public speaker. Former Chief Digital/Technical Officer in Sbanken, Norway's first online-only bank and leading challenger bank. Former VP of strategy and innovation in SpareBank 1. Experienced management consultant and Msc. from University of Oslo. Twice awarded as top talents in leadership by e24, and listed in Kapital 40 under 40 individuals that have shown exceptional performance in their field.
This is a collaboration between:

Sign up for the free webinar